Mike Watkiss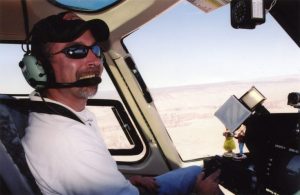 Mike Watkiss, KTVK reporter:
We often fought like hot-blooded brothers and we sobbed in each other's arms at places like Ground Zero in New York. We made up dirty lyrics to songs on the radio and laughed hysterically as we drove tens of thousands of miles through monsoon storms and snowy blizzards. Once during a particularly potent and punishing desert cloud burst west of Phoenix Jimmy and I almost got hit by lightening. We always had an adventure.
Not many people know this–but one of Jimmy's most endearing talents: his uncanny ability to imitate the voice of almost every cartoon character ever created. Hearing him do the little space alien from Bugs Bunny cartoons at three in the morning after driving for 15 hours straight–well let's just say–it never failed to make me laugh. Yeah we wanted to kick each other's ass on more than one occasion. I'm a complete slob and he was always organized to the point of obsession. He called me "Captain Chaos" and I always saw him as the "All-American Kid." But in the magical way of "the yin and the yang"–together we also produced–to my mind–some of the finest t.v. journalism broadcast anywhere in the world during the last decade–be it Ronald Reagan's funeral from Simi Valley to Florida's 2000 presidential election scandal from Palm Beach. Jimmy and I were in Oklahoma City for Timothy McVeigh's execution–in Salt Lake exploring the kidnapping of Elizabeth Smart–and we've also chased polygamist child abusers from the Arizona strip to the mountains of Colorado to the wind swept plains of west Texas. Indeed James Alan Cox had a major hand in our Emmy and Edward R. Murrow Award winning documentary "Colorado City and the Underground Railroad"–a piece of journalism that I think most objective observers would agree helped change the course of Arizona history. Jim Cox was a brilliant shooter, a stand-up guy and a damn good friend. And at this point I'd give just about everything I own for one more of those crazed all night drives–one more naughty little sing-a-long–yeah and maybe even one more of those shouting matches in the back parking lot.
But more than anything I wish I had the opportunity to tell you how much I loved you.
Top