2009 Recipients
High School: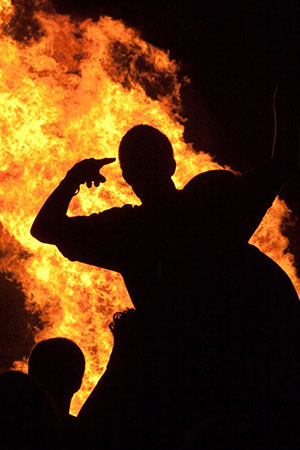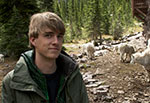 James Fanucchi
Sonoma Valley High School
El Verano, California
James Fanucchi, one of five winners in the high school category, writes that "throughout high school, wherever I have gone so has my camera. I was there with my camera when my friend Gabe fractured his spine long-boarding, when the streaker ran across the field during halftime, and my camera was there to document my early journey with Multiple Sclerosis." James' photos are of many different themes (as James refers to it – the "flexibility of my journalist subject matter") but all seem "alive" and sometimes, like the "Fire Dancer" capture a truly magical moment, with great color, detail and superb lighting. A. Mitchell, from Sonoma Valley High School, who wrote one of James' reference letters, says that "in my twelve years as a photography instructor at Sonoma Valley High School, very few students have shown the interest and dedication to photography that James shows." As photo editor of his school's yearbook, James uses "the camera not only to express himself but to explore and document the world around him."
---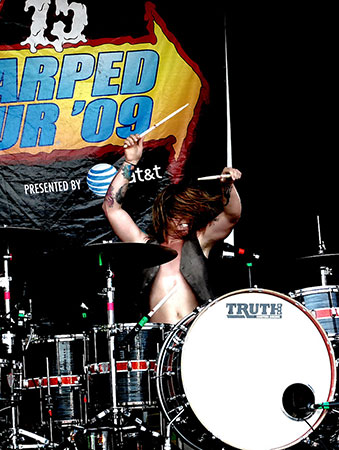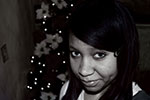 Keami Hepburn
SEED Public Charter School
Washington, D.C.
Keami Hepburn, a high school scholarship winner from the D.C. area, likes action photos. Many of her submitted images are scenes from skateboarding contests or concerts; photos that all require great skill in capturing movement at the right angle and at the right time. For Keami, each photograph showcases her skill, abilities and technique. In her own words, each is testament to "dedication, perceptiveness, and the agitation it took to create it." Kerry Richardson, the Director of College Counseling at SEED Public Charter School, says that the day Keami "was introduced to a camera lens was a transformative day for her because it enabled her to share her point of view in ways that words alone could not express." She "translates the energy of the movement, the sound and the texture in a way that invites the viewer in and makes you want to know what she was thinking at that precise moment when she captured the shot."
---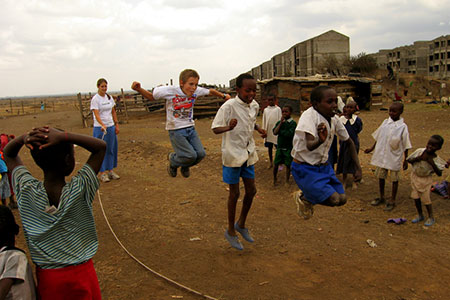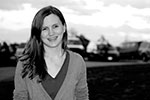 Sally Nelson
Homeschooled
Moores Hill, Indiana
Sally Nelson, from Moores Hill, Indiana, is not afraid to take the difficult shot. "I want to photograph not just the pleasant aspects of life; I want to capture the difficult, raw moments. I want to present the world as it is: a sometimes beautiful, sometimes horrible mosaic of lives and moments." Her submitted images, many focusing on her time living in Africa while her parents awaited the adoption of her little sister, are often sad or even heartbreaking. A photograph of a child's grave; a man despondent over some news he has just received. There are also the happy pictures, though; of a proud World War II veteran or of her younger brother playing with new friends in Africa. Sally's images, whether joyful or sad, are always passionate, moving images. As Marilyn Childress states in her reference letter, Sally "approaches all of life with remarkable passion and energy, pouring herself into whatever is at hand, whether performing a task, photographing a moment, debating a point, or showing compassion to a hurting friend."
---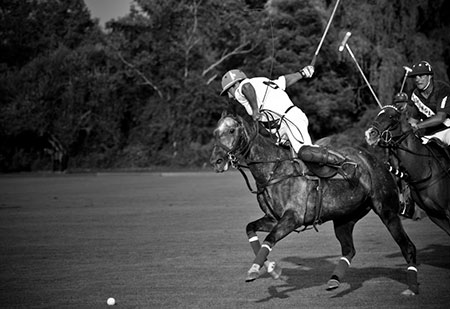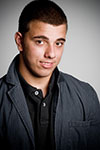 Brandon Rabbie
Roslyn High School
Roslyn, New York
Brandon Rabbie, another winner in the high school category, is involved in multiple activities at school, from football to viola, to computer programming and, of course photography. The latter, he feels, is "my most passionate hobby" and it certainly shows in the stunning photographs he submitted to this year's competition. One of his photographs is a beautiful image of Chinatown in New York City. There is also a stunning, nighttime shot of The George Washington Bridge and a dynamic photograph of a horse in full gallop at a polo match. Brandon, along with being well known for his artistic abilities, is also recognized as a kind and giving young man by his teachers and peers. With his photography, he has managed to combine both. Liza Nathan, in a reference letter from Brandon, said that, in addition to donating his services as videographer and photographer to a recent fundraiser, he also donated over a dozen framed photographs. "To no great surprise," she writes, "all of his photographs were sold at the event."
---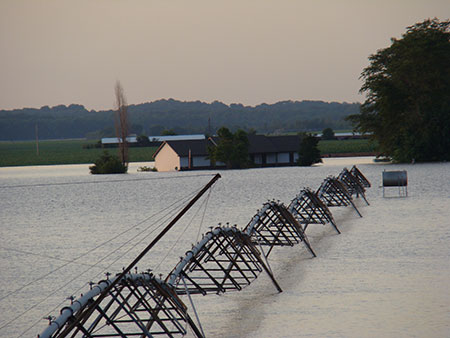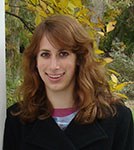 Rachel Richardville
Rivet High School
Vincennes, Indiana
Rachel, a high school foundation winner from Vincennes, Indiana, submitted photographs of a flood that happened in her hometown several years ago. One of the worst floods in over a hundred years, the images capture the enormity of the disaster, but also the strange beauty that can sometimes accompany such events. A sunset, with three silhouettes in the foreground, is a beautiful image against the flooded field behind it. "The ability to document events, both personal and historical, through photography is the reason why I want to pursue it as a career," Rachel writes. Her school principal, Janice Vantlin-Jones, is confident that Rachel will achieve her goals. A hard worker, with interest and talent in many school programs and extracurricular activities, Ms. Vantlin-Jones knows Rachel's "love for the art of photography" and is "sure she will acquire her dream."
College: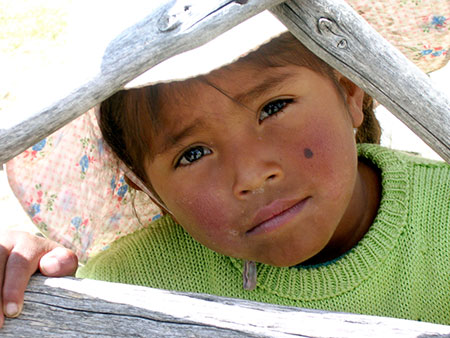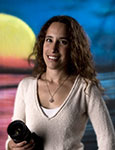 Elite Henenson
Santa Barbara City College
Santa Barbara, California
Elite Henenson, who is the Foundation's college still photography award winner, is a student at Santa Barbara City College, pursuing a bachelor's degree in photography and anthropology. One of her goals, she states, is "to create strong images that will raise global awareness about issues such as poverty and cultural differences." "Your scholarship", she also writes, "will help me to bring a new vision into the world." Her submitted images, while all very different, do exactly that: highlight various cultures and diversity in all of its many forms, from student life in her own town, to children she met on her travels in Bolivia. One photograph of a young girl in this South American country is mesmerizing. Noel Gomez, Student Program Advisor at her school, states that Elite combines "intellectual depth and rigor with a strong commitment to helping others" and "has fulfilled many roles crucial in developing the field of documentary photography in the Santa Barbara County by increasing awareness to important issues within the community, such as poverty and health."
---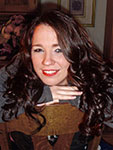 Alexa Keeley
Pennsylvania State University
State College, Pennsylvania
Alexa Keeley, one of four $2,000 winners in the college video category, states in her application essay that she loves "taking the responsibility of making sure a story is told right." She also likes the technical challenges and approaches and, during the past school year, "worked very hard and produced many stories using different multimedia techniques." Her two video submissions, about Penn State's mascot, the Nittany Lion, follow these criteria. Although both are instructive, carefully researched pieces, they are also creative and well produced. One is a fun portrait of a seemingly enviable job, while the other is a more somber look at the responsibilities involved in being a Big Ten mascot. Curt Chandler, a senior lecturer at Penn State University, thinks that Alexa is "the kind of student this industry needs." She can "track down sources, get them to talk, gather supplemental information and combine it all in a complete web package, which we showcased on the Penn State student showcase website."
---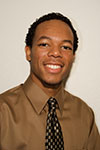 Demetrius Pipkin
Arizona State University
Phoenix, Arizona
Demetrius Pipkin, another $2,000 winner in the video category, submitted two very strong pieces with his application. The first one, about gun violence, is informative and probing, while the second one, about a young high school student named Jonathan Roberts, is very moving and relates the story about Roberts finishing his senior year while his mother battles cancer. Both videos demonstrate a commitment to the facts, as well as an understanding and caring for the subject matter and people being interviewed. Robert Nino, 12 News Phoenix's News Operations Manager, feels very strongly about Demetrius and his potential as a photojournalist. Robert even sees some of Jim Cox in Demetrius. "Having worked next to Jim for many years in Phoenix, Arizona, I witnessed his competitive passion daily. As competitors, I enjoyed this passion because it raised the bar for everyone on the story knowing Jim's work ethic and desire to win the story. I see similar qualities in Demetrius."
---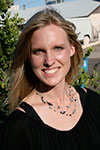 Christie Roshau
Arizona State University
Phoenix, Arizona
Another scholarship winner for video work, Christie Roshau, also from Arizona State University, says that "videography for me is more than simply a camera, tripod, and a subject correctly framed and sound-checked. Its goal should not only be to tell a story, but to stir passions." Her two video submissions, while of different subjects, both stir the viewers with their message. The first one, of the Tempe Symphony rehearsing, shows the dedication and passion of the performers, as well as the appreciation of the audience. The latter's enjoyment is beautifully captured in the faces of both young and old. The second video is about cornea donor families and the donor recipients. As Christie wrote in her application essay, she thought it was "healing for the donor mother to share her story." Michele Fortin, one of Christie's teachers at the Walter Cronkie School of Journalism at ASU, knows that Christie has a bright future ahead of her. Christie "knows how to put together a well-orchestrated story. Much of what she turns in is at the professional, not collegiate, level."
---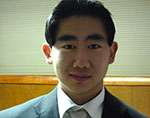 Lufei (Chris) Yu
University of Maryland
Germantown, Maryland
Chris Yu, from the University of Maryland, states that, "for me, the line between art and photography is blurred and I feel turning video into art should be what every journalist strives for." Another $2,000 scholarship winner in the video category, Chris submitted two very informative, professional and artistic pieces, with the first video about a man, walking from Texas to Massachusetts, with his two dogs to raise awareness about canine cancer. The second is about Car Free Day, a worldwide celebration of public transportation. Stan Heist, a professor at the University of Maryland, is impressed with Chris and says he "has demonstrated a remarkable eye for visual communication, a steadfast desire to improve his craft, and the willingness to go wherever it is necessary to do the story the right way."
Top