2011 Recipients
High School: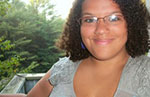 Elizabeth Benton
Brattleboro Union High School
Brattleboro, Vermont
Elizabeth Benton tries to capture her life and feelings in her photographs. "In my work, I aim to portray myself through my subjects." She also, though, wants "others to form their own interpretation of the moment that was able to captivate me." A well-rounded young lady, who one teacher, Gary Blomgren, describes as "gracious, thankful, intelligent and well spoken", Elizabeth is involved in many different activities. On the yearbook staff and a contributor to the school's literary/art magazine, she also holds down a part-time job and is involved in her town's In-Sight Photography Project. With the latter organization, which enabled her to travel to South Dakota last year, she produced exceptional images, many of which she submitted with her application. Through striking photographs that capture every detail, she highlights not only the beauty of the area but also its history and social problems. The sadness of Wounded Knee or the disfiguring graffiti on the Pine Ridge Reservation all come alive through her images. David Mazor, another teacher at her school, admires her talent and says she "continuously shows the desire to be as creative as she can possibly be."
---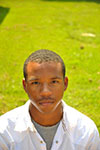 Justin Perry
East Mecklenburg High School
Charlotte, North Carolina
"Justin is without a doubt one of the best, if not THE best student photographer I have advised", writes Bill Allen, an adviser for the school's newspaper. What stands out with Justin's submitted work, whether it is an image of a sporting event or a student protest, is the emotion that his photographs capture. One of his favorite works, he says, is of a classmate getting a hug after delivering a powerful speech at the school's Veterans' Day ceremony. "The highlight of the event", according to Justin, "was not the ceremony or the gun salute or any other frivolous exercise. The most important thing was that feeling of raw love and camaraderie for our fellow Americans." Another teacher, Heather Elizabeth Hays, describes a beautiful book he created, of his hometown, Charlotte, for a school project. "The work he generated was exceptional, all of the evaluators gave him the highest praises." A talented photojournalist, Justin is also, like all of the Foundation's winners, an accomplished young man and involved in many school activities, including being a drum major in the band and a student in the school's challenging International Baccalaureate program.
---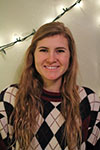 Shelby Tauber
McKinney High School
McKinney, Texas
Shelby Tauber writes that her submitted images were chosen "to show how my interest in portraiture and in photojournalism converges into a blend of what I'm interested in." Her main goal, depicting people and "presenting their personalities and talents," is wonderfully demonstrated in her five application photographs. There is a black and white image of an older woman, content in front of a fan; a photo of a group of ecstatic fans at a game; and an image of an athlete straining to pass the baton at a track event. These are the kinds of images that win awards and Shelby has won many, including being named a 2010 Imagemaker from The Association of Texas Photography Instructors. Shelby is also, according to her references, a natural leader. As yearbook photo editor, she has to oversee 17 student photographers. Her adviser, Lori Oglesbee, notes that she spends time with each one, offering encouragement and advice. "The quality of Shelby's photography" she writes "is a glimpse into the quality of the person who created it." Shelby "will make a difference in this world and probably how we see it."
---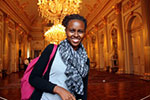 Murugi Thande
North Point High School
Waldorf, Maryland
Murugi Thande perfectly sums up what Jim Cox strived to do, and what all good photojournalists strive to do. As she writes in her application essay, she wants "to be a journalist gathering and circulating information to provide the knowledge that would empower my audience and strengthen my community." Murugi's submitted images, many taken on a trip to France, capture a wide range of subjects, from a juggler in Montmartre, Paris, to a storm in Normandy, and finally to a mesmerizing image of a somber President Nicholas Sarkozy paying homage to fallen soldiers. While they are all beautiful, interesting images, they all also capture something deeper, something unique. Lindsay Emple, adviser for the school's newspaper for which Murugi is photography editor, says that Murugi "is able to capture the most obscure details that many people would overlook." Another teacher, Sarah Wyse, also points this out, writing that "Besides providing exceptional work with exceptional photography, she also added a certain uniqueness to each photograph." Murugi's talent, despite her young age, is already being recognized and she has published photos in numerous magazines.
---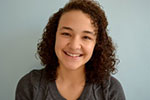 Olivia Wallace
Columbus Alternative High School/Fort Hayes Career Center
Columbus, Ohio
Olivia Wallace's beautiful black and white images were all taken with 35 mm film. Highly unusual these days, as most students have switched to digital, she says "it is important to know the fundamentals." Along with wanting to learn all of the technical aspects of photography, Olivia is also determined to learn how to best capture her subject matter and tell compelling stories. As her teacher, Rick Kocks, notes Olivia's "ideas are well-thought out and executed to perfection" and she "has never been satisfied with "OK" or "GOOD". Her application images, of urban life in Chicago, are gritty and real, yet beautiful and poetic at the same time. Two, possibly homeless, men sit on a bench; a slightly hunched, downtrodden man sits waiting for a bus; and a pair of elderly, seemingly more affluent, women walk away from the camera. Eva Ball of Glass Axis, where Olivia works, says that Olivia's photographs are "rich in social and cultural mythologies and current happenings." Her work, she also states, "takes photojournalism to a new and thought-provoking place."
College: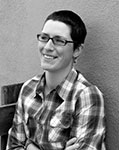 Ramey Newell
New Mexico State University
Las Cruces, New Mexico
Ramey Newell (the Foundation's still photography winner) has had a career as a graphic designer and an editorial and assignment photographer for several years. She wanted to go back to school, however, to further her skills. She said that, while relatively successful, she thought "her work lacks enduring impact" and she wanted to learn how "to make images that matter." With the photographs she submitted with her application, it appears as if she is well on her way. One photo is a beautiful black and white image of an elderly man. Another is a colorful, detailed photograph of a fishing boat. There are also images of a rock climber, photographed amidst spectacular scenery. J. Sean McClenegham, one of Ramey's journalism professors, is extremely impressed with her and notes that "I haven't had an undergraduate in the last decade at NMSU, who has her intellectual curiosity, ability to focus, perform under pressure, and give her best daily effort in the classroom." Another professor, David Taylor, says that Ramey, while once a new, somewhat inexperienced student in his class, is now "setting the standard that her classmates are encouraged to emulate."
---
Kevin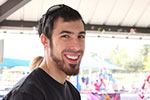 Florida State University
Tallahassee, Florida
Kevin Echemendia has always been passionate about photojournalism. As he says in his Foundation essay, "at no point have I ever thought of doing anything else with my life." It is obvious, upon viewing his two submitted videos, that he has been honing his skills for quite some time. The first one, produced for Florida State's College of Education, is a promotional video and is used by the department to entice prospective students. The second one, a feature on freshmen soccer players for Florida State's women's varsity team, was made for the university's Seminole Productions. Both videos are informative, fun, and extremely professional. Kevin's references speak very highly of him. Amber Smalley, the Director of Communications for the College of Education, considers him "to be among the brightest and most forward-thinking university student videographer and young professionals I've ever met." She also notes his tenacious "desire to learn and eagerness to grow in his craft." Dianna Garbarino, with Seminole Productions, echoes this sentiment, saying that she enjoys Kevin's "constant strive for perfection."
---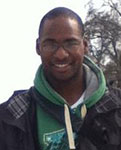 Trevor Gilchrist
University of South Carolina
Columbia, South Carolina
Trevor Gilchrist loves photojournalism because he views it as a powerful tool for communication. "Photography, to me," Trevor writes in his essay, "is able to bring people from other parts of the world together even if they do not speak the same language." A first-generation college student, Trevor is a hard worker who is not only a dedicated journalism student, but also a band drum major, a correspondent for the university's TV station, and a columnist for the student newspaper. He has also worked hard to be able to do some traveling during his college years and his submitted videos are about his study-abroad program in Ireland. Both of Trevor's references speak highly of his wonderful personality, enthusiasm and constant desire to learn. As Jamala Harrison, with the Opportunity Scholars Program at his school, writes, "He is full of energy and bubbles over with curiosity." Althea Counts, the Program Coordinator with the same organization, notes this as well, saying that Trevor "has a passion for knowledge and understanding" and he "accomplishes anything he sets his mind to."
---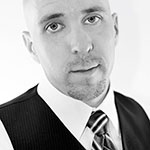 Jeremy Knop
Arizona State University
Phoenix, Arizona
Jeremy Chapman, who was also chosen as the Foundation's first intern at KTVK-3TV (see page one for more information), says he has "always been grounded in visual storytelling." The two videos he submitted with his application are testament to his skill in this area. The first, about the tenth anniversary of 9/11 at the Healing Field in Tempe, Arizona, is a moving piece with wonderful interviews and polished editing. The second video, concerning the revitalization of downtown Phoenix, is informative, engaging and, again, makes great use of interviews and professional editing. Serena Carpenter, a professor of Jeremy's at Arizona State, believes part of his skill lies in his ability to relate to people. "His primary passions are photography and people. He recognizes the value of creating content that connects with the public." Another instructor, Aaron Thacker, from Mesa Community College, also praises Jeremy, noting that his work on a local magazine, InMaricopa The Magazine, "helped elevate our readership with his photojournalism skills and stop-action sports photography." He has, Mr. Thacker, notes, "an eye for images with personality."
---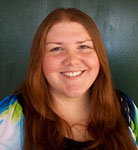 Kendyl Wainscott
Arizona State University
Phoenix, Arizona
Kendyl Wainscott, who was working in the Foundation's editing bay at Arizona State when she learned she had received a scholarship, loves how photojournalism captures a moment forever. While true of photography, she notes that this is even more true of video. As she writes in her essay, "Working with video took that feeling and magnetized it beyond what I could imagine. Not only was I capturing images forever, I was preserving sounds." Her two submitted videos tell stories of people at work, with somewhat unusual jobs. In the first, she provides the viewer with a glimpse into the tasks faced by airport ground control. In the second, she "gives a face and name" to the person waving a sign, dressed as the Statue of Liberty during tax season. Kendyl's reference letters were especially strong with Kim Krigsten, a professor at Arizona State, writing that she is a "hard worker with natural talent – a combination which isn't always easy to find." Michelle Harvey, who worked with Kendyl at the Glendale Media Center, says that they were "fortunate to work with a person of Kendyl's initiative and motivation."
Top