2017 Recipients
This is the Foundation's tenth year of providing scholarships to talented high school and college students.
Once again, the Foundation received hundreds of applications from across the country. Along with their portfolio of work, recipients were chosen based on several criteria, including financial need, an essay, letters of reference and their school transcript.
The Foundation's guest judges this year were, once again, Steve Bodinet, formerly of KTVK-KPHO, Channel 3, Phoenix and Elise Wilson, of Aspen PRO Media, Arizona.
High School:
Five high school students each received a Nikon D3400 camera with lenses, carrying case and memory card.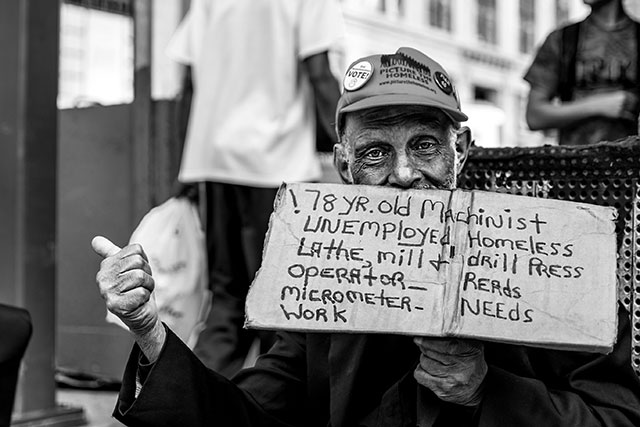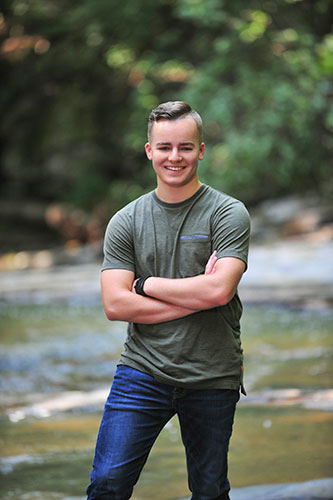 Sam Adams
Pinecrest Academy
Cumming, Georgia
Sam Adams is passionate about photography, especially portrait photography. He believes that his portraits of New York City's homeless will help to draw attention to their needs and give a voice to those in our communities who are often overlooked. In Sam's words, "Through raising awareness for them, I believe that over time more and more people will come to realize that there are people who are struggling and need help both physically and mentally." Holli Griffis, a high school counselor who has known Sam since middle school, describes him as hardworking and engaged in projects within his school and his community. The words she chose to describe him are "driven, honest and respectful." Alison Stone, a teacher in the visual arts department also writes enthusiastically about Sam's achievements, his character, his creativity and strong moral compass. She selected him to receive the Outstanding Artist Award which is the highest art award given at Pinecrest Academy. Sam Adams is a fine example of a young person who will make a positive impact on the lives of others.
---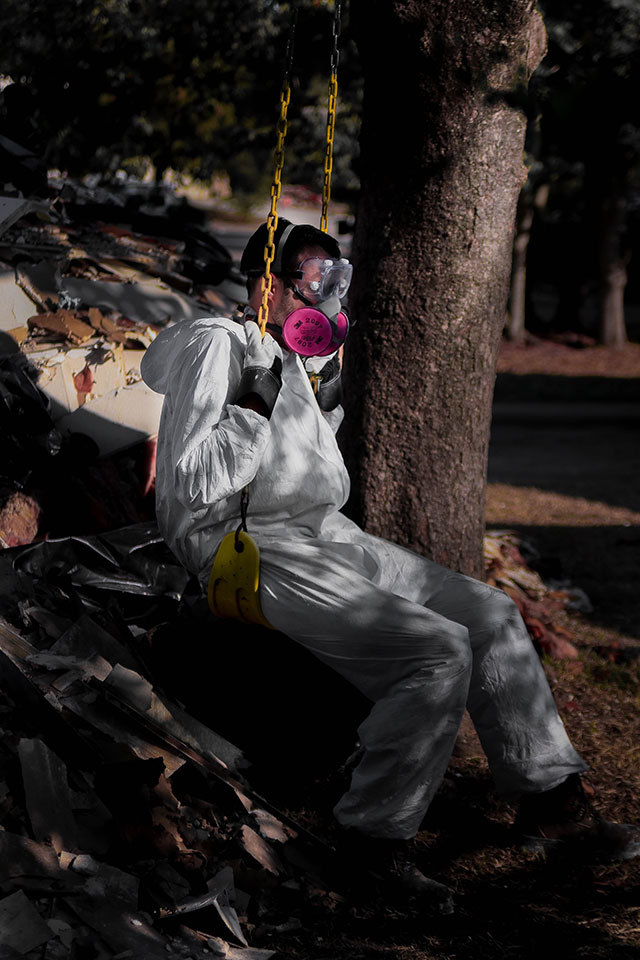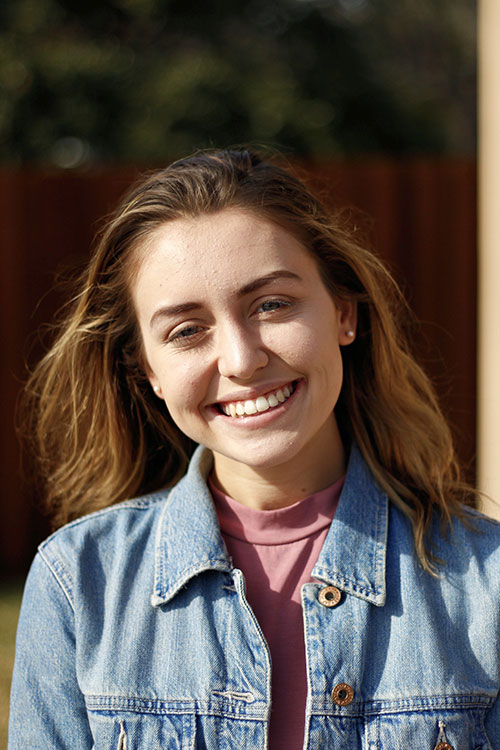 Hannah Mohr
Stony Point High School
Round Rock, Texas
Hannah has decided to pursue a career in photojournalism and her goal is to "show the quintessence of life through photography and share it with the world." She sold her camera with the idea of buying another but the expenses associated with college applications and admissions tests prevented her from replacing it. As a winner in the James Alan Cox Foundation competition, she is now the owner of a new Nikon DSLR. Rebecca Plumley, Hannah's student publications advisor, writes that, as an editor and photographer, Hannah was the creative force behind a yearbook that was honored with awards on the state, national and international levels. She writes, "Hannah's top quality is her ability to perform a variety of high level tasks" which includes working late nights and behind the scenes to ensure the success of the publication. Her journalism teacher, Holly Nichols, points to Hannah's creative flair and her "passion for photography that extends beyond the school day." The images that she submitted were meant to evoke an emotional response and she succeeded.
---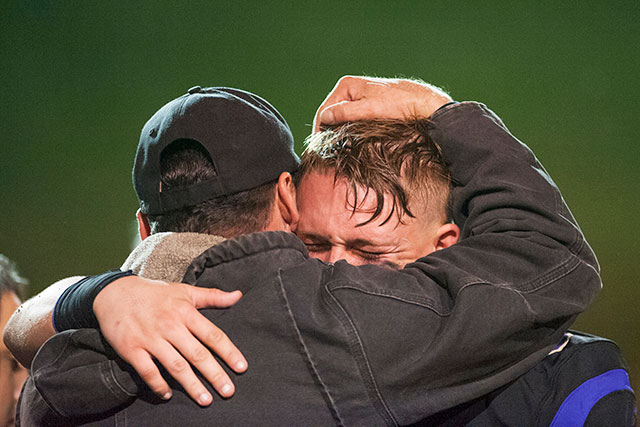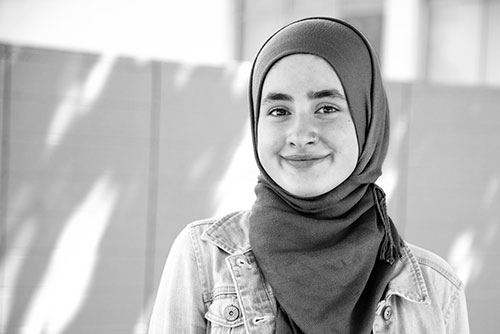 Shumesa Mohsin
Tokay High School
Lodi, California
"I can capture the bitter-sweet emotion of the final senior football game . . . and more, behind a viewfinder of a camera." This statement was made by a high school student who had no knowledge of photography when she joined the yearbook staff, went on to become the photo editor, and was awarded third place in a competition for an action image taken during a basketball game Shumesa has learned how to capture the raw emotions on display at critical moments in the lives of her classmates. She is not shy about giving credit to her teachers, Roger Woo and Najwa Dougish, who wrote exceedingly complimentary recommendations describing her talent and ambition. Ms. Dougish writes, "Ms. Mohsin actively pursues opportunities and turns them into something special," and Mr. Woo, who taught her in freshman honors English, describes her images as wonderful story telling photos. It is not at all surprising that this creative and self-confident young person would publish a blog of photography and commentary to reflect her world and her experiences.
---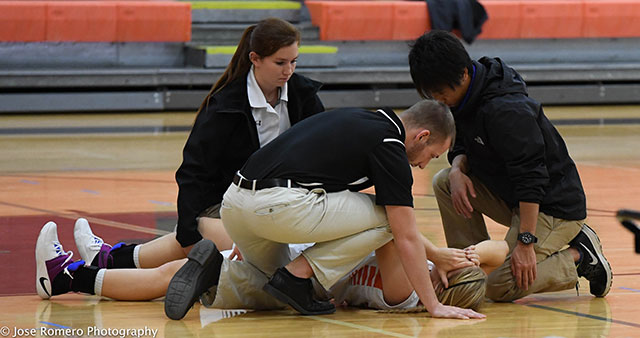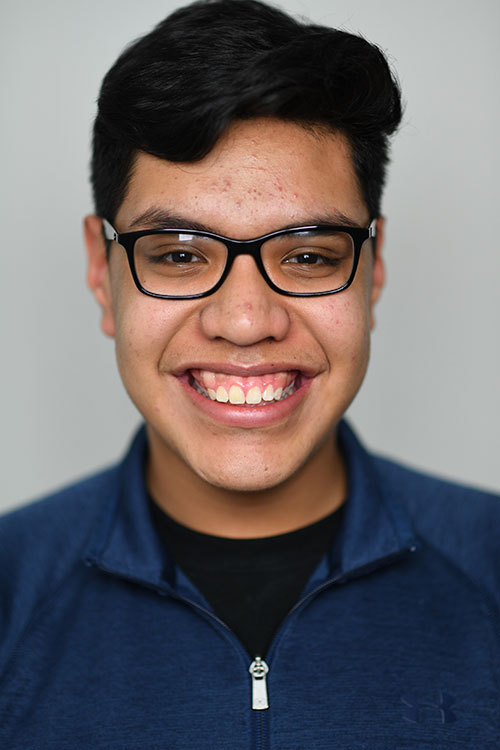 Jose Romero
Lexington High School
Lexington, Nebraska
Jose obviously loves being behind a camera and as Photographer-in-Chief of his school's yearbook he is charged with recording events that happen during the school year. His journalism advisor, Erica Brockmoller, has observed Jose's growth throughout his high school years, lists numerous journalism awards that he received in sports action photography and in news feature photography, but the thing she likes best is "his ability to self-motivate. Most impressively he is confident enough in his skills to sit among professional photographers during events." In his own words, "I believe that a simple image can tell a whole story" and each one of his submissions for the competition proves that point. Since Jose was using school cameras and didn't have one of his own, he was concerned about how he would continue his photography in the summer after graduation. As a James Alan Cox Foundation winner, he now has a Nikon DSLR to take to the University of Nebraska. He plans to study photojournalism.
---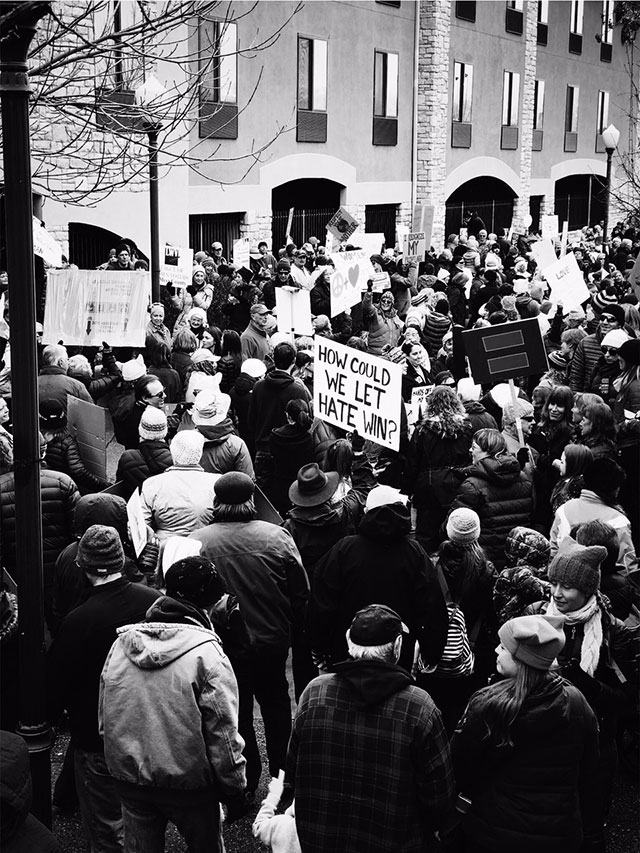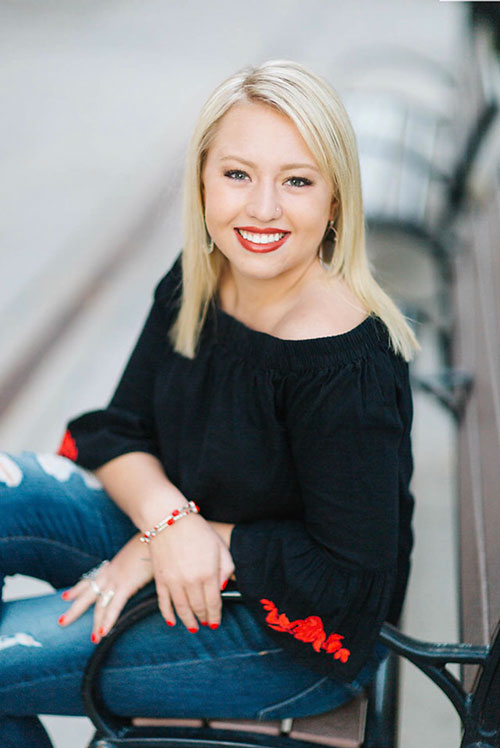 Riley Trujillo
Fruita Monument High School
Fruita, Colorado
Riley Trujillo believes that we all have a story to tell and that our stories serve to enrich the human experience. In her essay she explains her belief that our stories are often best told by photographs that are able to portray human emotions. Although the images that she submitted display an obvious talent and desire to report on the concerns of ordinary citizens, her essay reveals a passion for sports journalism and she hopes to make a career in that field. Certainly, the joy and agony of winning and losing will provide her the perfect venue for telling stories through photographs. Gaylene Ludwig taught Riley in an Honors Composition and Literature class and reports that Riley achieved a 3.83 GPA while participating in a lengthy list of extracurricular activities. One of the most important being part of the founding of Break the Silence, an organization designed to end the stigmatization of mental health. She goes on to say that it was Riley's "incredible kindness and compassion for all of her peers which marked her as an exemplary teenager in my eyes." We have no doubt that Riley will continue to use images to tell stories that need to be told.
College:
Six college students each received a $2,500 scholarship, payable to their school. (The Foundation normally gives out five college scholarships per year but this year, due to the many talented entries received, decided to award an additional scholarship.)
Still Photography Winner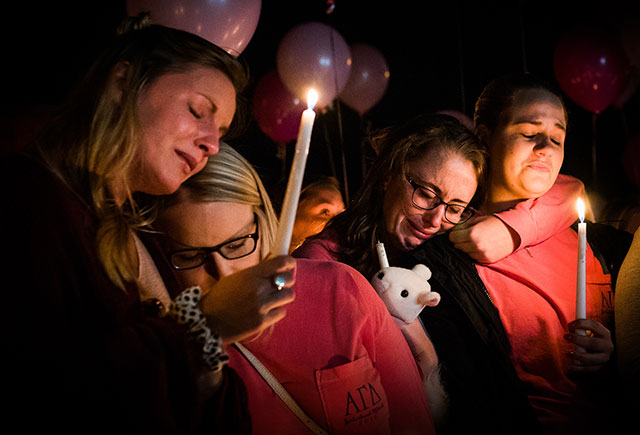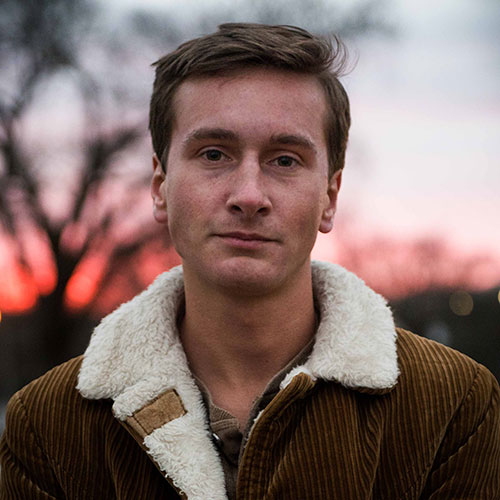 Gabriel Stephen Scarlett
Western Kentucky University
Bowling Green, Kentucky
Gabriel Scarlett, the Foundation's still photography winner, is not afraid to try something new. As he stated in his application essay: "For the last two years, I have always felt in over my head, and I would have that no other way." He constantly pushes himself to do something different and expand his education and experience. The last two summers, for instance, found him working at interesting, yet demanding, jobs: at an internship in New Mexico (which also included trips to the Navajo reservation) and at The Denver Post. For both jobs, he says, "I struggled, made mistakes, I learned." As Tim Broekema, one of Gabriel's professors, says in a reference letter, that while his photos seem effortless, "I know behind that seeming ease is a dedicated, thoughtful and hard working person." Patrick Traylor, of The Denver Post, writes that Gabriel is always ready to "learn something on an assignment." His education and experience seem to be paying off, as he submitted a beautiful portfolio with his application. There is a photo from his work with the Navajo; a moving image from a vigil; and a incredibly unique shot of a sailor standing at attention, while horses race by, at the Kentucky Derby.
Video Winners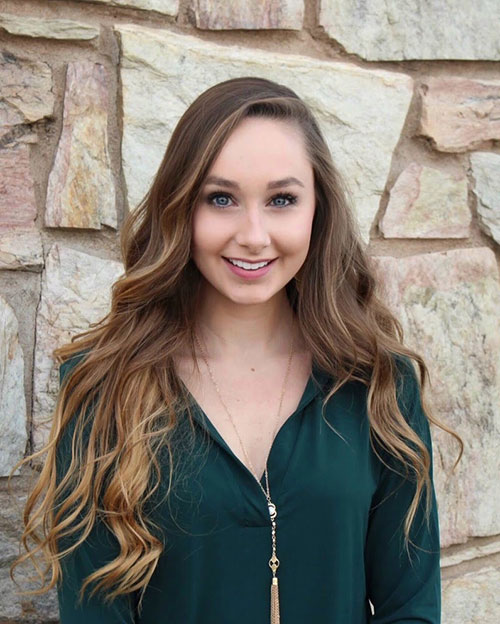 Jordan Elder
Arizona State University
Tempe, Arizona
Jordan Elder has been a videographer for a very long time. As she states in her application essay, she has been "shooting solo since I was a freshman in high school." For her, it's an extremely important part of the job. As she says, "I believe that to be an effective journalist, you need to know how to shoot and edit video by yourself." Her two submitted videos reflect her many years of study and practice. The first one, about a pumpkin patch in Arizona, is an affectionate look at a traditional fall outing for many local families. The second one, about a band called "Don't Tell Mom", is an enjoyable, and very funny, piece about a rock group made up of middle and high school students. Jordan's reference letters are excellent, with Nancy Held Loucas, the CEO of Student Television Network, noting her impressive background, writing that she was "Executive Producer of her high school's broadcast program that won many awards from our national organization." Justin Ford, a broadcast instructor at her high school also says that Jordan received a very special honor while still in high school, "a national student Emmy Award for Best Talent."
---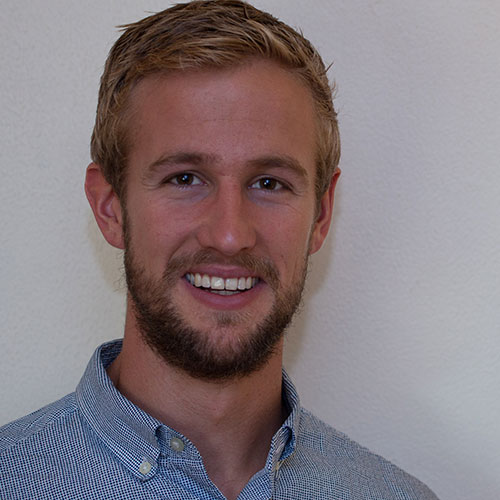 Nevin Fowler
Colorado State University
Fort Collins, Colorado
Nevin Fowler discovered "his passion for photojournalism", while serving in the military in U.S. Marine Reconnaissance. "It was my job to report back information using photography and writing." He is honing these skills at CSU and producing, according to one of his instructors, Steve Weiss, "a number of visual, entertaining, and thought-provoking video projects." Another instructor, John Eisele, writes that Nevin, along with creating quality work, also showed "an enthusiasm for learning everything he could about photography." "When we learned about offcamera lighting in class, Nevin checked out equipment to explore and experiment on his own." Nevin's favorite subjects, he says in his essay, are people and the outdoors and this is perfectly exemplified in his two video submissions. The first is a caring portrayal of a regular man; a sometime bike mechanic, avid storyteller, and full-time dad to two autistic boys. The second video is even closer to Nevin's heart as it is a piece promoting Veterans Expeditions (VetEx), an organization that helps veterans adjust to life back at home with high adventure outings. With both videos, Nevin hopes to "tell the story of those who rise above hardships and inspire others to do the same."
---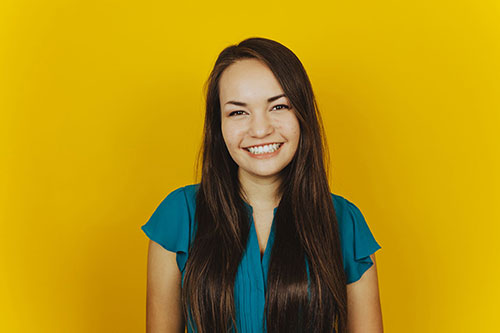 Samie Gebers
Arizona State University
Tempe, Arizona
Samantha (Samie) Gebers, who was also the Foundation's KTVK-KPHO intern last Fall, loves taking risks and being original with her photojournalism. With both subject matter and style, she tries to be "visual, be creative and be compelling." Both of her submitted videos, in fact, reflect this creativity. One, a profile of a high school football player who is also a devoted dad, seamlessly combines a wide array of videos and interviews, while the other, about a hiker on the Pacific Crest Trail, skillfully uses still images and videos to evoke the experience of walking this demanding trek. As Samie says in her essay, she fell in love with a particular style of photojournalism and attempts to incorporate "this visual, fast-paced, sound-driven style into many of my news packages." David Brill, a former instructor, admires her approach, saying she "is one of the few students who pushed herself considerably out of her comfort zone." A supervisor, Austin Dave, at The Santa Clarita Valley Signal where Samie interned, also notes this, writing that she "strived to try new methods of storytelling." One story she did with them, he recalls, was so creative and fun that it went international, reaching "the shores of London and the banks of Australia."
---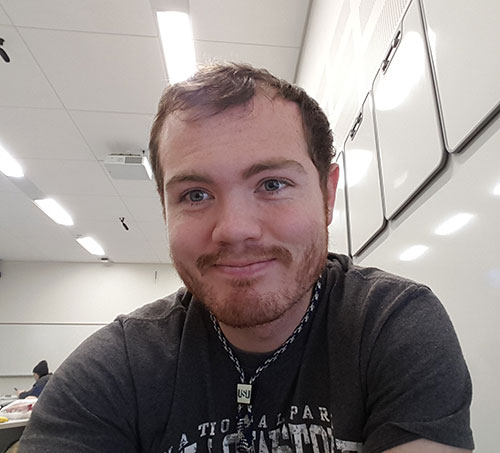 Bo Lamb
Utah State University
Logan, Utah
It's obvious, from the videos Bo Lamb submitted, that he cares deeply about his school, town and community. In particular, he appears to be very proud of local heroes. His first video, for instance, covers the funeral of a reserve police officer who was tragically killed, while his second story is about Merlin Olsen, the famous football player and philanthropist from the area. Both videos are touching tributes to these men and exemplify Bo's belief that "images are the truest and purest form of storytelling." As he also states in his application essay, "a skilled photographer has the ability to capture a moment in time, store it, and allow future generations to learn from it." Bo had extremely strong reference letters from two professors, with both referring to him as a hard worker, dedicated to his field, and with a strong "love of learning". One professor, Christopher Bennion Garff, writes that "Bo has always gone above and beyond what is required of him," while another, Thomas C. Terry, says that he is "always willing to take on new challenges." Professor Terry also comments on Bo's personable nature and maturity, saying his "fellow students genuinely like him and look to him for leadership inside and outside the classroom."
---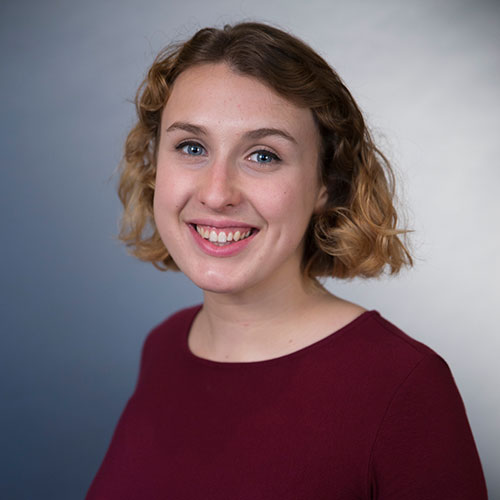 Anna Muckerman
University of Maryland
College Park, Maryland
Anna, while being a talented journalist, is also a very compassionate person. She loves photojournalism, in part, because it "allows people to feel the triumphs and pain of others in a way that creates empathy and even action." This struck home personally for her when she did a story on a camp for teenage siblings separated by foster care. The piece, which she included with her application, "challenged me personally" after she realized she attended class with one of the counselors, who had been in the foster care system. "I hadn't known he was in foster care and the piece opened my eyes to the difficult situation he faced." Her other submitted video is equally moving and is the story of a D.C. bakery, run from a homeless shelter, that teaches people baking and business skills. Josh Davidsburg, one of her professors, notes Anna's caring nature, saying that while "she has an innate eye for video production," she is also "ethically centered." Another professor, Bethany Swain, further states that Anna is involved with a variety of extracurricular activities and is a "leader around campus," acting as the news director for the college radio station and the arts and culture editor for the school newspaper.
Graduate Student:
One graduate student received a $2,500 scholarship, payable to her school.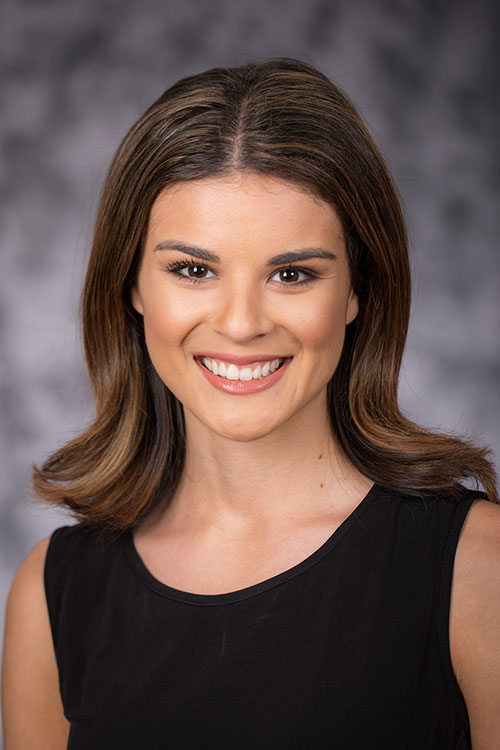 Adriana De Alba
Arizona State University
Tempe, Arizona
Adriana De Alba is, to put it lightly, a hard worker. She finished her undergraduate studies at ASU in three years and started working on her Master's in her fourth. She has also interned at several TV stations while in school (PBS, CBS and the CW), but, as Mike Wong, of ASU, says in his reference letter, "Even though she has worked multiple internships, Ms. De Alba finished her undergraduate studies with a near-perfect 4.0 GPA." While it is evident from her submitted videos that she is a gifted reporter (a fascinating story about a Mexican-American family's tequila business and a moving portrait of Navajo Reservation students being helped through a veterinary sciences program), her favorite part of the process is videography. While she knew "that becoming a skilled videographer" would be extremely helpful, she didn't know that she "would fall in love with the craft and it would have an immense effect on my career." Robert McJannet, one of her professors, sums up Adriana perfectly in his glowing reference letter for her. "Having the privilege of knowing and working with Jim Cox," he says, she "exemplifies all that Jim stood for: Excellence, drive, and the desire to put forth your best effort every single day with passion and conviction."
Top